Ownat cat Cotagro daily care 20 kg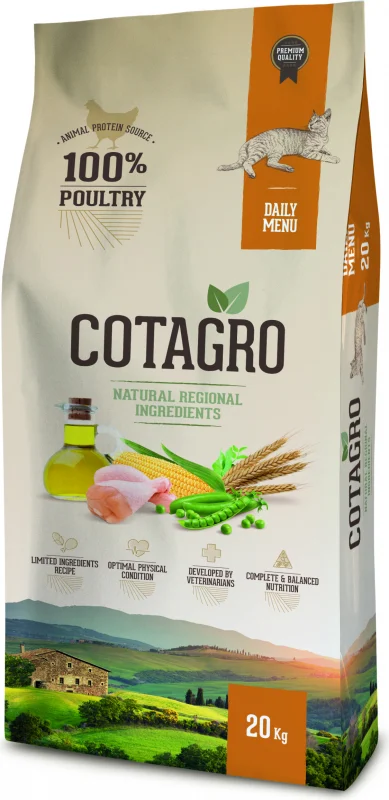 Ownat cat Cotagro daily care 20 kg
Description
COTAGRO cat kibbles are formulated for adult cats with a normal level of activity, regardless of their size or breed. Complete and balanced, they provide all the necessary nutrients for your pet to meet its daily needs. Thanks to a unique blend of colors and flavors, they are very appetizing. A balanced combination of proteins and fats to avoid overweight, helping to maintain optimal physical condition.
Composition
Cereals (maize 25%, wheat 23%), meat and animal by-products (poultry meal 32%), vegetable by-products, oils and fats (vegetable oil 0.5%), legumes (peas 2%), minerals.
Additifs
Sodium (%) 0.4, Taurine (mg/kg) 825, Manganese (mg/kg) 30, Zinc (mg/kg) 60, Iodine (mg/kg) 1, Selenium (mg/kg) 0.1, Copper (mg/kg) 2, Iron (mg/kg) 40, Vitamin A (IU/kg) 18000, Folic acid (mg/kg) 1.5, Vitamin B1 (Thiamine) (mg/kg) 7.5, Vitamin B2 (Riboflavin) (mg/kg) 15, Vitamin B6 (Pyridoxine) (mg/kg) 10, Vitamin D3 (IU/kg) 1500, Vitamin B12 (Cyanocobalamin) (mg/kg) 0.15, Vitamin E (mg/kg) 90.
Analytical Constituents :
Protein: 27%, Fat: 12%, Moisture: 10%, Fiber/Cellulose: 2.5%, Inorganic matter / Ash: 8%, Calcium: 1.4%, Phosphorus: 1%.